Making Polo le Poulpe,
a giant octopus, with the help of 500 kids in Marseilles



How to create awareness amongst kids?
Get them involved in a recyclart project! That's what I'm up to this spring/summer - in Marseille. I am building Polo out of plastic waste collected on beaches, from the kid's homes and schools and from the shopping center where we have set up an atelier. There's Polo - made out of plastic bottles, bubble wrap, an old parasol, mussel farming netting, and 288 suckers – but we are also building the reef on which Polo lives with coral, sponges, rocks and lots of critters! We are making the base on which all of the above will be placed as well - out of bottles too. Before leaving the atelier, the kids write a little message making a wish for the oceans. Unveiling in september so stay posted on my social media pages!

Comment sensibiliser les enfants?
Impliquez-les dans un projet Recyclart ! C'est ce que je fais ce printemps/été - à Marseille.
Je construis Polo à partir de déchets plastiques collectés sur les plages, provenant des maisons et des écoles des enfants ainsi que du centre commercial où nous avons installé un atelier.
Il y a Polo - fait de bouteilles en plastique, de papier bulle, d'un vieux parasol, de filets de mytiliculture et 288 ventouses - mais nous construisons aussi le récif sur lequel Polo vivra avec du corail, des éponges, des roches et beaucoup de petits animaux ! Nous fabriquons également une grande base en bouteilles pour poser le récif, Polo et ses amis. Avant de quitter l'atelier, les enfants écrivent un petit message faisant un vœu pour les océans.
Dévoilement en septembre, alors suivez moi sur les réseaux sociaux !
http://www.planete-biodiv.org/polo-le-poulpe-geant/



Mini exhibit early July at the Coordination Eau Ile-de-France Summer University


Very honored to have been asked to show some of my work early July at a 3-day event in Paris on the theme of climate change & water.

Très honorée d'avoir été invité à exposer quelques pièces pendant l'Université d'été de Coordination Eau Ile-de-France sur le thème du changement climatique et l'eau.
http://eau-iledefrance.fr/le-programme-de-luniversite-dete/#more-9290



"Faites un vœu pour la planète bleue"


On June 9, I participated in a big climate change event in Paris organized by Alternatiba. I installed a "pledge net" with some educational panels on water in general and plastic pollution of our ocean in particular. People (and lots of children!) made pledges, wishes and drawings for the blue planet.

Le 9 juin 2018, j'ai participé à un grand événement sur le changement climatique, organisé par Alternatiba. J'ai installé un grand "filet à vœux" sur le thème de l'eau en général avec un focus sur la pollution plastique en particulier. Des visiteurs (et plein d'enfants !) ont joué le jeu en laissant des vœux, des petits mots et des dessins pour la planète bleue.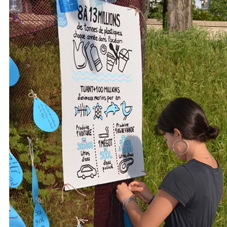 ITW in "The Marine Diaries" (English)

Article and ITW in "ID L'info durable" (Français)
I will be showing my work at Galerie 3F in Montmartre from
April 16 thru 22
, 2018. The show is called "Tidelines", highlighting the plastic pollution found on beaches.
Open everyday from 2pm to 7pm
______
J'expose à la Galerie 3F à Montmartre du 16 au 22 avril 2018. L'expo, intitulée "Tidelines", met la lumière sur la pollution plastique qui envahit nos plages.
Ouvert tous les jours de 14h à 19h
Galerie 3F
58 rue des Trois Frères
75018 Paris
M° Abbesses
galerie3f.fr